Contact
Contact us by e-mail or phone
+41 31 770 70 00
PerUnit is an online institution based in Bern and does not have a presence in a property with reception and offices. The UID number is CHE-173.789.246. The company is registered with the Bern Commercial Register Office.
The letterbox is a thing of the past. Accordingly, no print media are received and processed.
Help us enforce the environmental measure, no plastic and no paper in information processing.
Thank you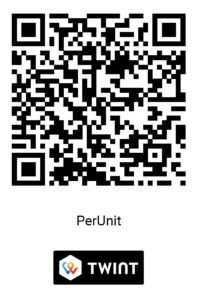 Become a Benefactor
Donate any amount of your choice for our further development. The PerUnit welcomes all contributions.
The funds will be used for a specific purpose. In particular for development and research for continuous process optimisation and digitalisation of learning sequences. It is also used to support content, research and publications.
From CHF 200.00 you are entitled to membership. Look out for the information under the heading next to it, Become a member.
Thank you very much for your support!
Become a member
With a contribution of CHF 200.00/year you become a member, receive personal access to the activated online services & course content, for one year and can participate in all info events & webinars free of charge.
Fill out the contact form, tick the Become a Member box and then click Submit.
You will then receive a digital invoice by email. As soon as payment has been received, you will be sent your registration details by e-mail.
We waive notice periods and contracts. If you pay in again after one year, your membership is automatically extended by one year. As soon as you stop making new payments, your membership expires on the last day of the paid year.
With access you benefit from the course content. Members who book a course with coaching receive a price reduction of the amount of the membership fee.
All members are entitled to a short-term consultation of 20 minutes to record their concerns and to make a rough assessment of their support needs.